VAGO'S NOTEBOOK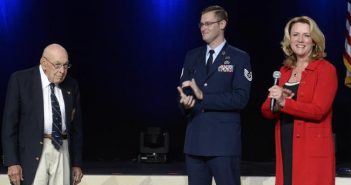 The naming of any new aircraft is a big deal, and the stakes are particularly high given it happens so infrequently.
Striking the right balance among history, symbolism and menace without veering into the corny is always tough. The names of the last two bombers, the B-1 Lancer and the B-2 Spirit, weren't exactly resounding hits.
So all eyes were on what the Air Force would name the B-21 that is under development by Northrop Grumman. Air Force Secretary Deborah James and Gen. David Golfdein, the chief of staff, picked the winner from names submitted by airman service wide.
In front of a packed auditorium at the Air Force Association's flagship annual conference last week, the new bomber was named the Raider, in honor of Jimmy Doolittle's daring raid on Tokyo by the last survivor of the mission and one the Air Force's greatest living heroes, retired Lt. Col. Dick Cole.
The 101-year-old Cole, Doolittle's copilot, said he as honored and humbled by the gesture, wishing his comrades were alive to share in the moment.